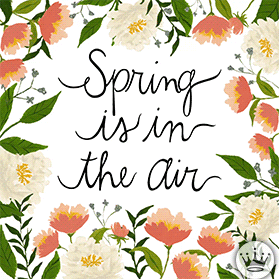 It's been a long winter, and you're all set to come out of hibernation, hit the road and enjoy the warmer weather. But is your vehicle up to the task? Before you jump in and start cruising, take time to spruce up your car for spring.
Go All Out with Pro Cleaning
Running your vehicle through the car wash a few times during the winter helps removes road salt and grime, but these quick baths don't reach the nooks and crannies or address the dirt and debris your winter boots dump on the floor mats. This spring, invest in a thorough cleaning and detailing job to take care of everything. The pros have tools and techniques to make every inch of your car spic and span. You won't have to contort yourself to vacuum Cheerios out from under the seats or spend an hour trying to get the tires looking just right. A professional clean and detail job eradicates the filth and ends with waxing and buffing so that you can cruise in style.
Check Those Tires
Whether you swap your snow tires for a warm-weather pair or use a set of all-season tires throughout the year, spring is the time to inspect the general condition and take a look at the tread. Excess wear reduces the ability of tires to grip the road and can make driving dangerous, especially during spring rains. If your tires are still in good condition, have your mechanic rotate and balance them to promote even wear and extend the lifespan.
Double-Check Your Documents
It's not uncommon for the glove compartment to double as a wastebasket. Pop it open before your first spring outing, and get rid of the 700 takeout napkins you stuffed in there over the winter. While you're at it, make sure all the important stuff is at hand, like your vehicle's license and registration information, the owner's manual and your insurance cards. Add any receipts or proofs of service required by your car's warranty agreement, as well.
Check the Fluids
Check the levels of oil, wiper fluid, coolant and transmission fluid, and top them up as necessary. If it's been a while since the oil was last changed, spring is a good time to have it taken care of. You should also ask your mechanic look for and repair leaks or damaged lines.